"Don't gossip! Let him drive!"
Wow, even the road signs are chauvanistic round here!
It was two days ride from Amritsar on the Indian side of the India/Pakistan border and the first day took me past Jammu and into the foothills of the Himalayas, where I met mountain monkeys for the first time since my trip to Sri-Lanka as a kid, bloody dirty bastards that they are!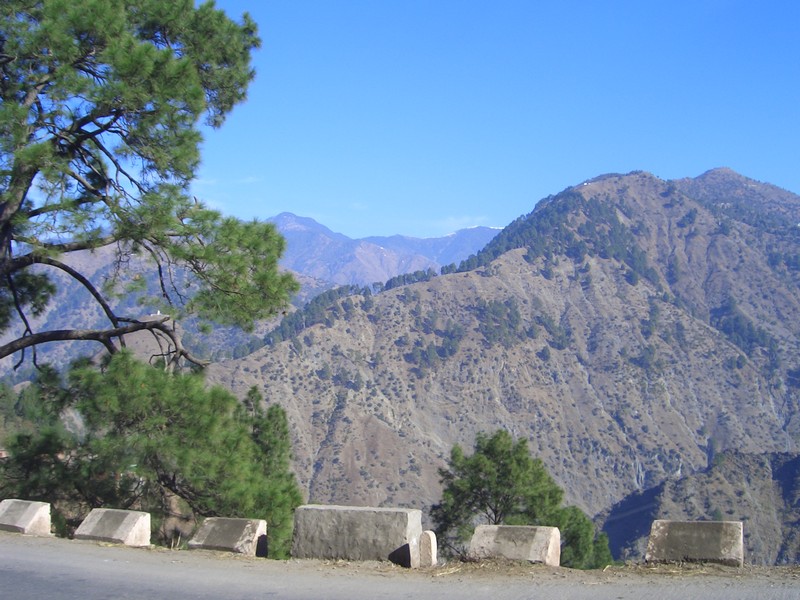 The next day took me through Srinigar, which is the capital of Indian Kashmir and sported roadsigns to Muzzafarabad in Pakistan-Kashmir which I'd tried to ride to on my way up the Karakoram and failed due to Pakistani beauracr… buearac.. paperwork…
Eventually I arrived at Tangmarg, at the bottom of the mountain road up to Gulmarg, my final destination. "13Km to Gulmarg" read the signs, I mentally spat on my hands and rubbed them together and began the climb. As I as ascended the evergreens became more prevalent and the grass gradually gave way to snow. The back wheel skidded and slid and I repeatedly saved myself from near disaster until I foolishly crossed a track of snow compacted by cars and slammed unceremoniously onto the snowy tarmac.
As I was struggling to pick the bike up an army truck rolled up behind, all 18 vertical feet of it adorned with gun-toting, motorbike helmet wearing privates and well kitted out with four wheel drive and snow chains.
Out the leapt and helped me pick the bike up, giving me a push until I could find traction and followed behind as I ever so slowly crawled to the top of the mountain.