"Any LSD or guns?"
I think the border guard was a little offended when I burst out laughing.
Getting out of Ukraine was easy, so far the worst the Moldovan guards had done was insist that I had to detour around Transnistria (around 250km) and say.
"Maybe a little present!"
I played dumb "Oh, what's a present?".
They looked at me in disgust and handed me a form to fill out.
I filled it out and made my way into the queue for customs where I was asked whether I was drugsmuggling, and no sooner had they started inspecting my panniers than a yellow Suzuki rocked up behind me and I heard.
"You're from England?"
I turned, smiled and replied that I was, whereupon a beamish smile broke out on the guys face and he pumped my hand vigorously.
"Where are you going?"
"Chisinau"
"I live in Chisinau! We should go together!"
"Sounds good!"
How little I knew at this point what a blessing it would be.
The customs official had been observing this exchange in silence, and upon its completion, gave me a sickly smile and waved me through.
"Huh.." I thought to myself "that was easy…"
I waited on the other side of the border for my new compadre, who followed in very short order and asked:
"How fast you want to go?"
"Oh, hundred, hundred and twenty is fine by me" (kmh lads, kmh!)
"Excellent, I am Moldovan criminal police, we have no problem with speeding!"
As the country we were in at the time was Transinistra (a breakaway country from Moldova consisting of some 600,000 odd people) we still had to cross another border to get into Moldova proper.
We stopped at the next border post, showed our passports, Constanin (my guardian angel) exchanged a few jokes in Russian and we were whisked straight through.
I can't help but think that would have cost me an hour and a small sum of dollars to get through on my own.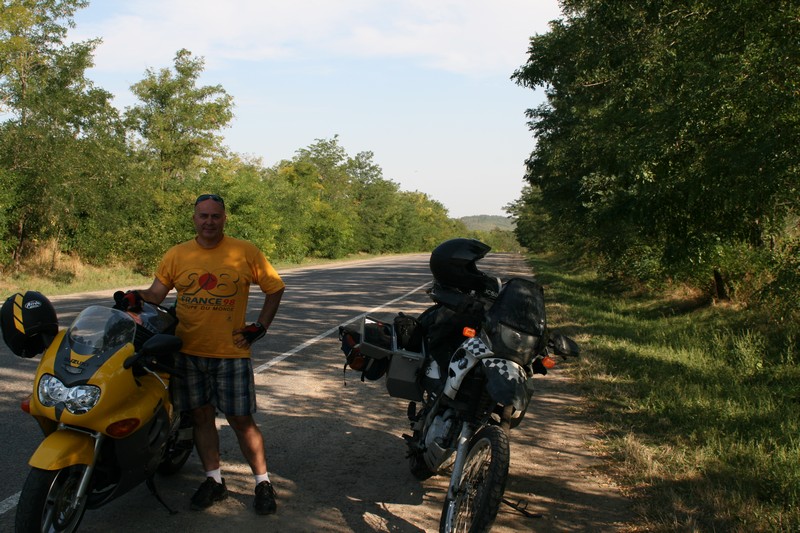 Once through into Moldova I realised what a blessing my guide was.
As you see, if there's one thing Moldova lacks (apart from EU membership, and a first world infrastructure) is fucking ROAD SIGNS, I swear there's only one of the fuckers in the entire country.
We went whisking down unmarked roads that I would have had no chance to navigate on my own, and when we arrived at Chisinau, Constantin even rang my hostel for me, found out where it was and took me there!
What a guy! It's people like this that make travelling what it is.
I didn't do much that evening, as even though I'd set off in the morning, it had taken me hours to find the right road out of Odessa and by the time I arrived I was ready for some food and some sleep.
And what food!
I had, of all things in the universe, Caviar and Sturgeon Pizza!
That, a beer and an orange juice came to just under 7 quid (horrifically expensive by Moldovan standards, but a cheap price to pay to be able to say I've had Caviar Pizza!
It was incidentally, like a very posh anchovie pizza, and since I love anchovies, that was just great!
The next morning I set off for the Romanian border, which should have been easy to find once I got on the M1.
However, the "M1″ at one point randomly curved off to the right and I went straight on (with, of course in grand Moldovan style, no signs indicating which way the main road was).
So I was left going down roads like this.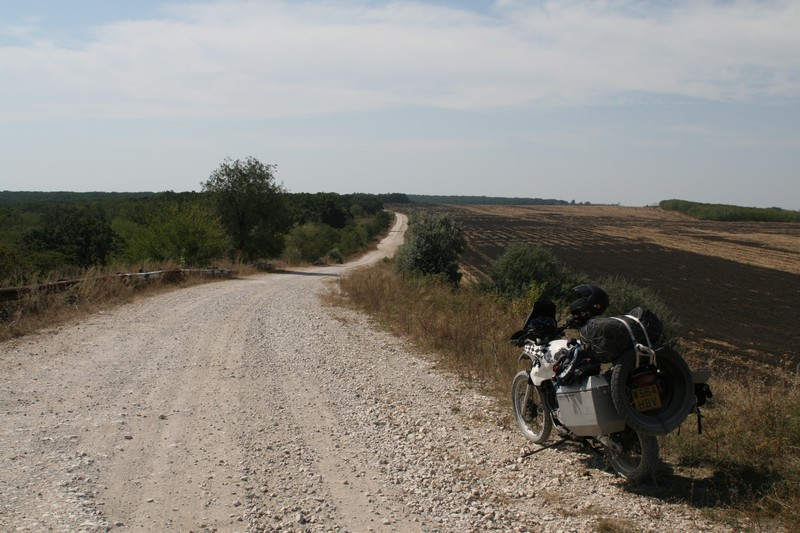 Which left me very glad I upgraded my suspension!
Gravel is fun, you have no say in where you're headed, you're just along for the ride!
At one point I hit such a vicious pothole that my tent/misc bag came off (amazing, considering it's strapped down with two ratchet straps) and I didn't even notice until about 10 miles later.
Fortunately it was still with me as it was locked on to the bike, I was just lucky it wasn't hanging next to the exhaust!
Crossed over into Romania eventually with no problems, total cost of Moldovan borders?
$0!
Romania as I saw it was much prettier than either Moldova or Ukraine before it.
It's almost as if some-one did the south downs, then some-one else responded "Pfft, I can do better than that!" then did Romania.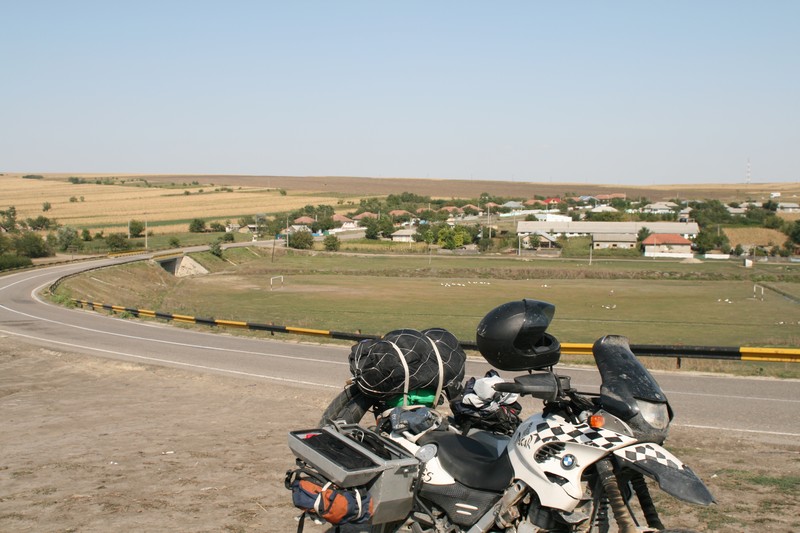 I wasn't quite sure where I was spending the night, so I popped into a couple of Motels along the way.
"40 euros please!"
… Yeah, no thanks.
Seeing as the roads were blissful in comparison to Moldova (average speed, 100kmh!) I decided to press on to Bucharest and find a Hostel.
And what a hostel!
I parked up next to this.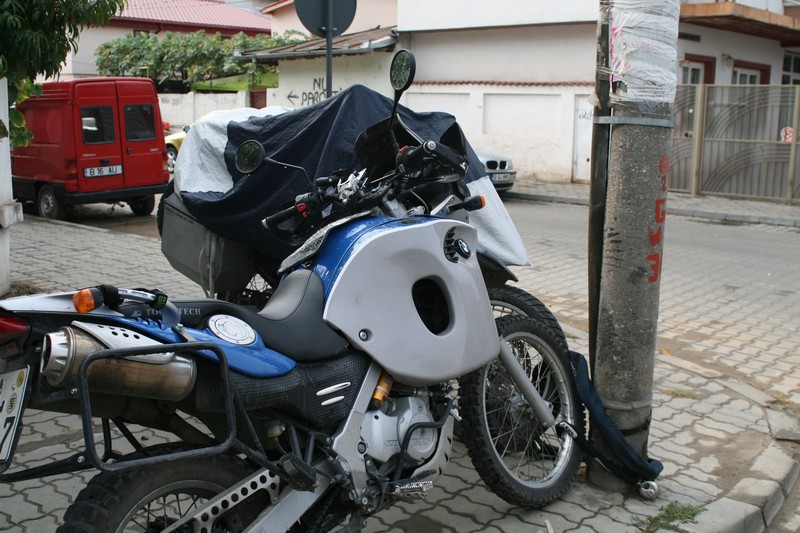 Turns out staying at the hostel is a German chap doing almost the same trip as me!
With almost the same time frame!
He's entering Turkey a little later than I am (25th rather than the 11th), and he's going to Thailand, Laos, Vietnam rather than Philippines/Indonesia, but other than that, identical!
Oh, also…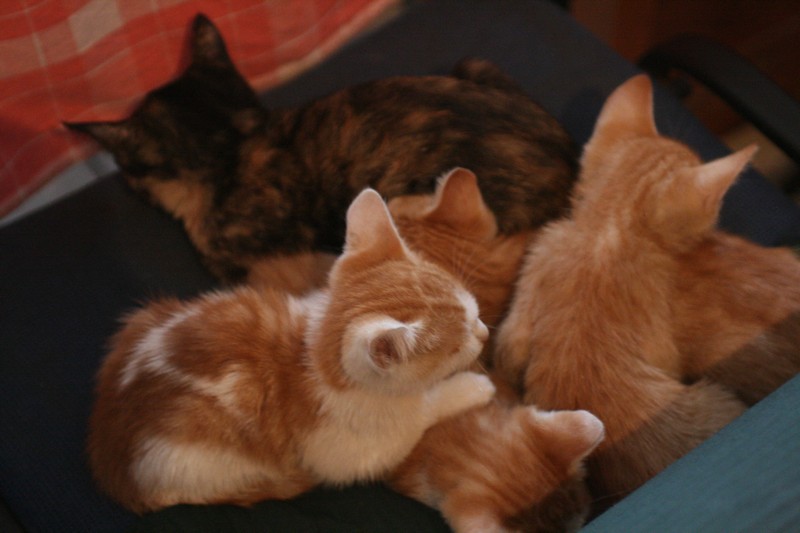 The Hostel has a resident Pile-'o-Kittens (TM)!
So, what the hell, I figure I can stay another night!