'Terrorist! Big Problem!'
'Hiyur problem, tamam, tamam'
'Tell him we only want to stay for one night'
'Uhh… Bir… Night… Tamam?'
'Hiyur! Big Problem! Terrorists!'
Camping near Chatac in SE Turkey was proving difficult.
'It'd be a shame to move, such a beautiful spot'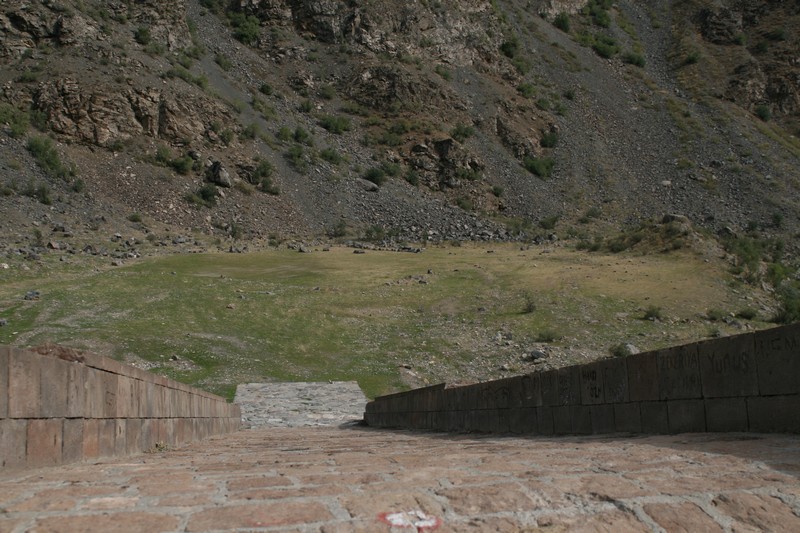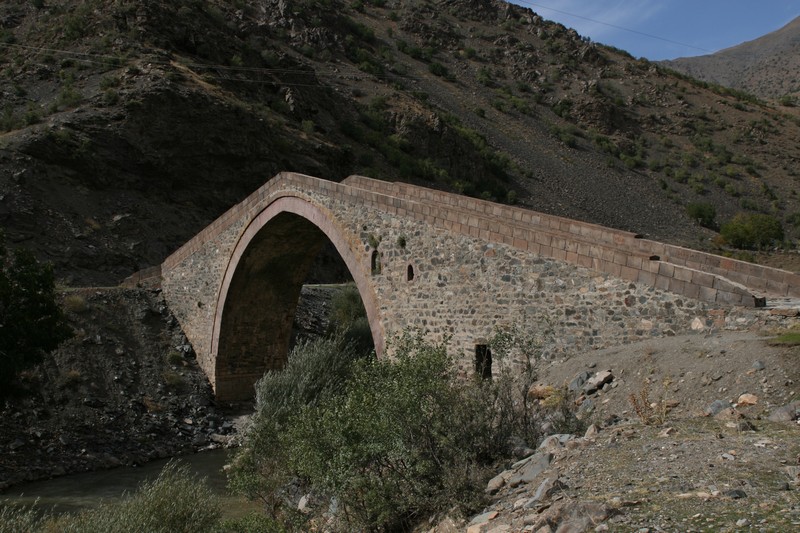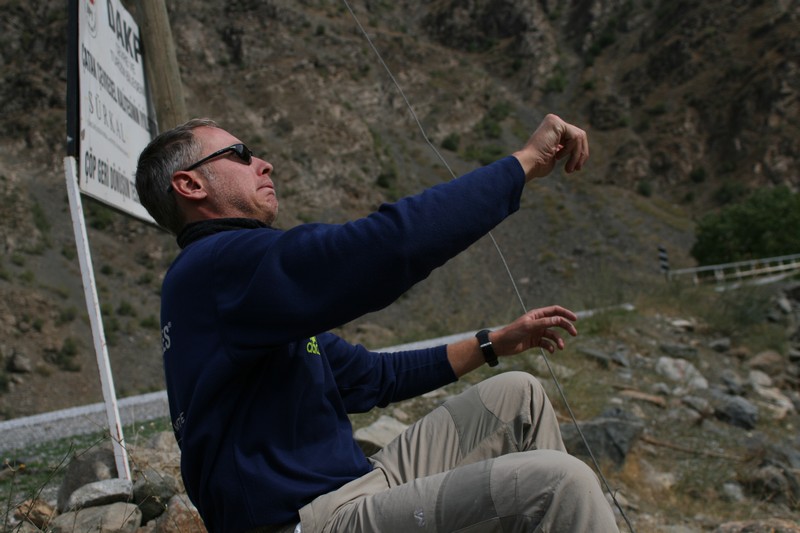 Unfortunately we were unable to persuade the military personnel that they were really making a big fuss over nothing and were convinced to pack up our tents and follow them to 'Teacher House'.
Chatac was not a pretty town, though in a pretty setting, the concept of keeping streets tidy hasn't quite caught on in Eastern Turkey, which makes the towns appear somewhat downtrodden, despite the beautiful surroundings.
We rolled up to the teacher house and once checked in (no cost, except our passport details!) were escorted to the Jandarma (Police Station) to park our bikes.
'Chai?'
'Never say no to chai!' replied Chris.
'Passports please'
'Interpol?' Wez joked.
'Interpol' The police officer nodded gravely.
We sat down outside the police station and chatted to one of the local traffic officers, who knew a fair amount of English from living in Istanbul previously.
'So what are you doing out here?'
"Well, it's the way it goes sometimes, they needed police officers out in the east so they sent me'
It struck me that all the professionals, Police Officers, Teachers, Military etc all seemed to be migrated Turkish whereas all the locals, shopkeepers, farmers etc, all seemed to be Kurdish.
We discovered later that the military were understandably twitchy as 15 members of the Turkish army had been killed that day in a pitched gun battle with the PKK (Kurdish 'Freedom Fighters') about 150km or so away from where we were.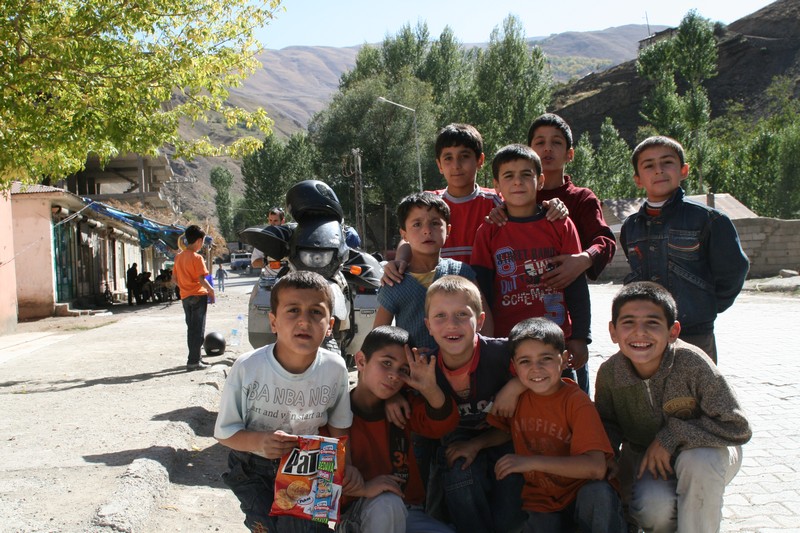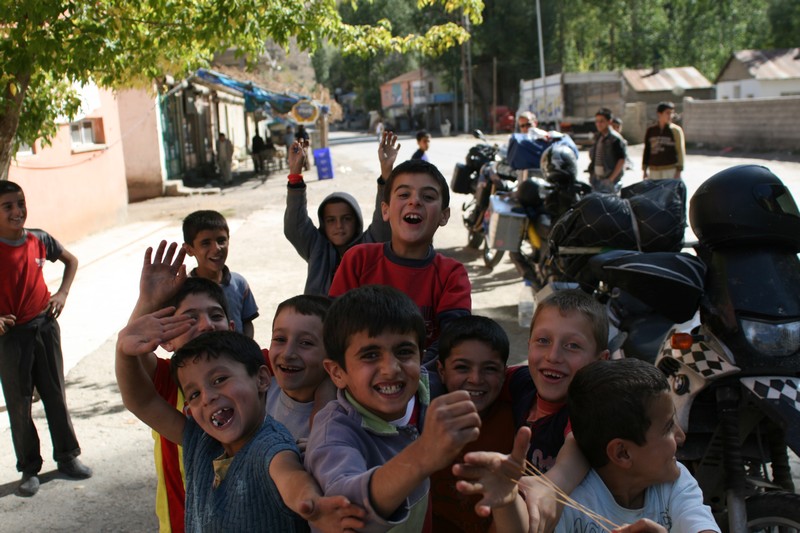 Local kids were friendly! (as usual)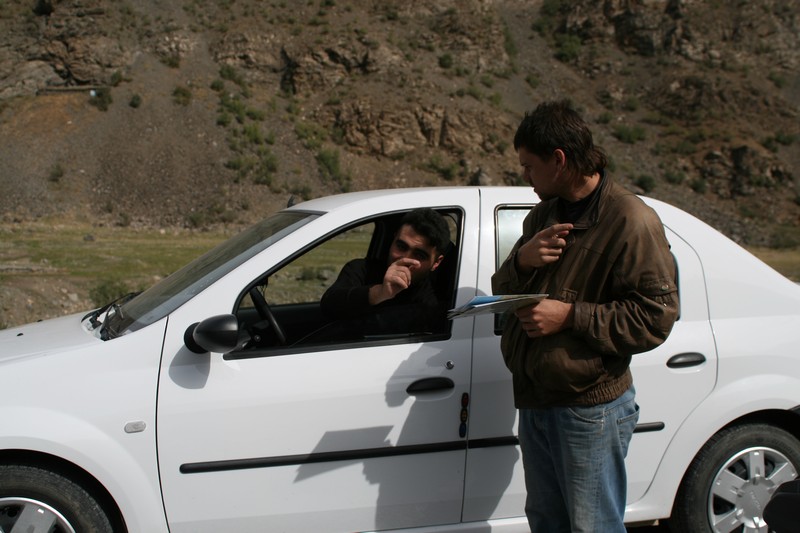 This way? Yes, this way…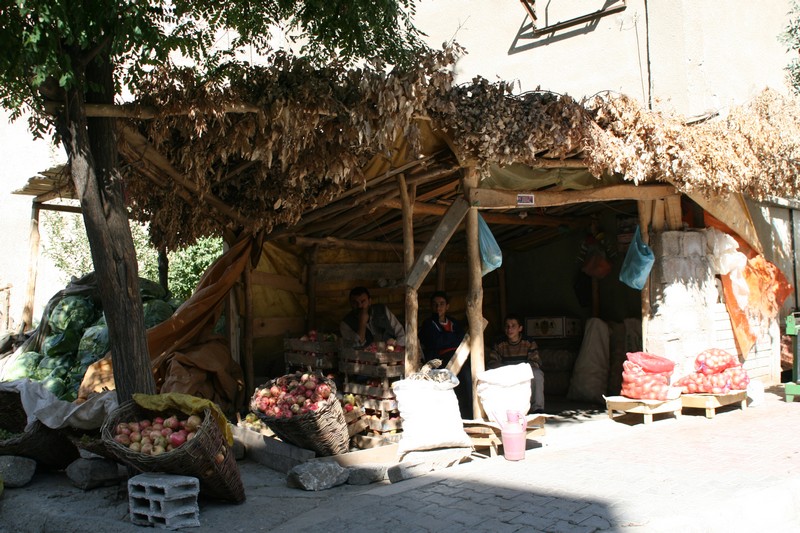 Fruit sellers in town.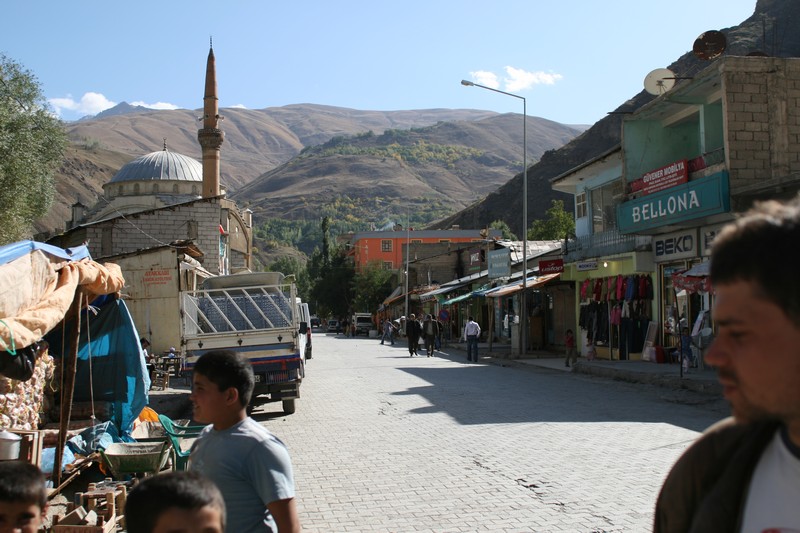 Highstreet, not pictured: mounds of rubbish.
The previous day we were driving through the moutains (lot of mountains in the east of Turkey!) and stopped for the night in a local town.
Three Europeans on heavy bikes always attract attention round here and soon we were surrounded by the usual gathering of kids (the record so far being 30, who subsequently threw stones at us!)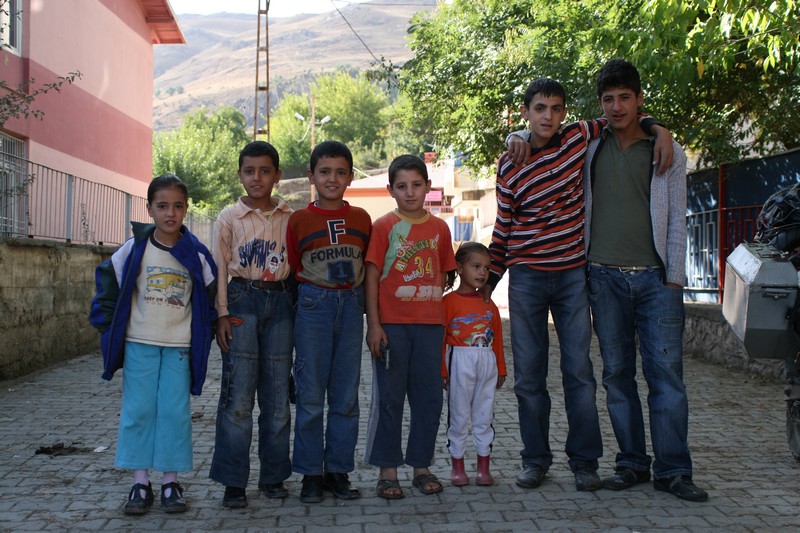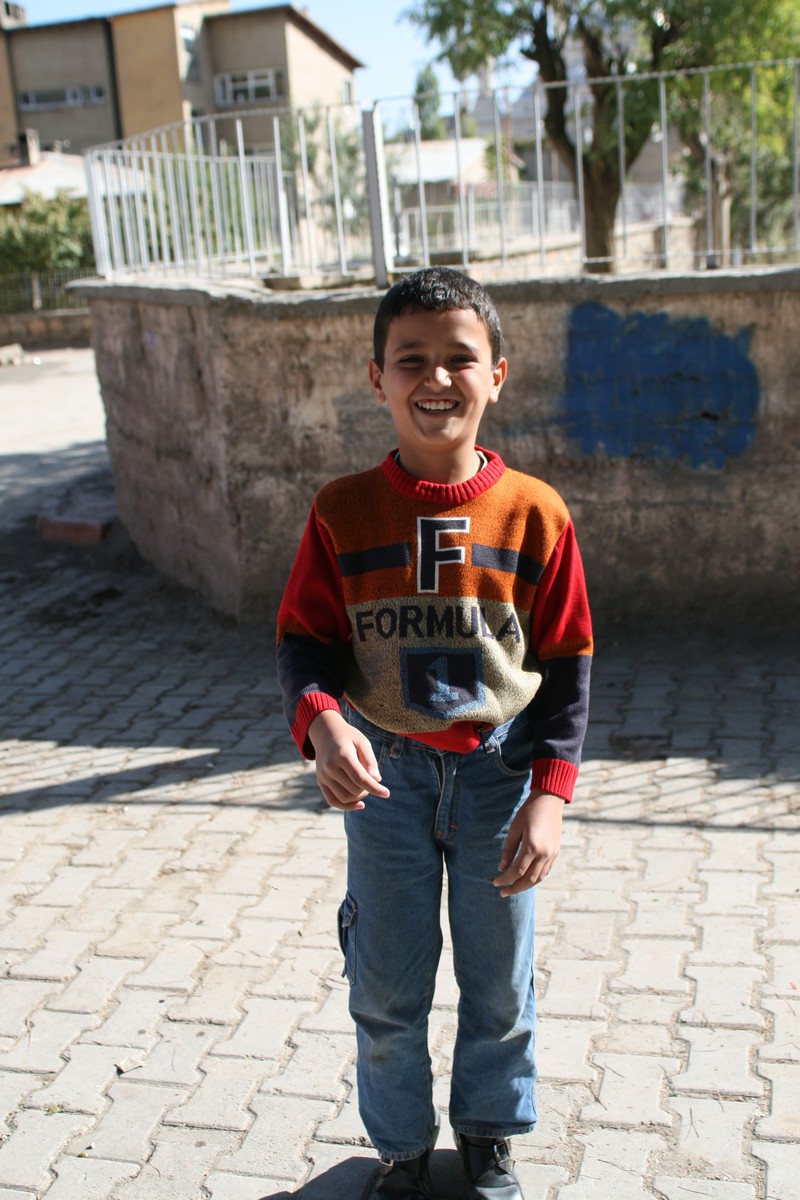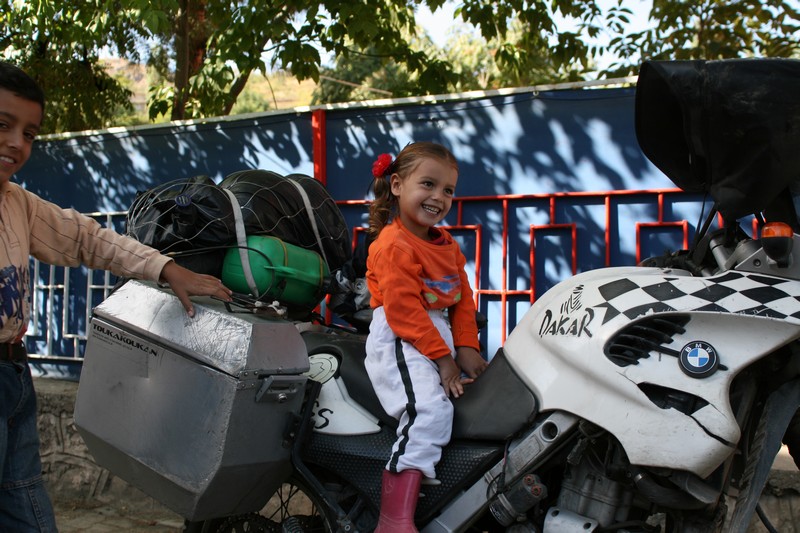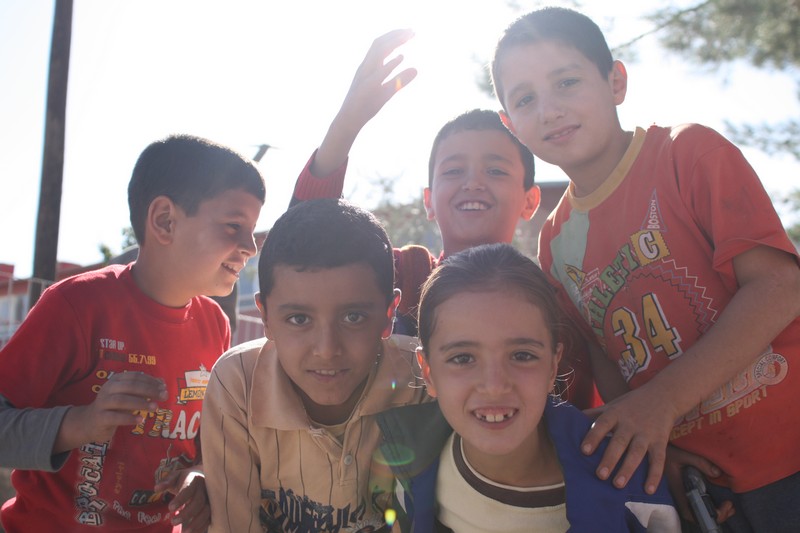 Fortunately we were shortly rescued by their teacher, who spoke excellent English.
'You need a place to stay?'
'Do we ever!'
'You can stay at the teacher house' (see a pattern?) 'It's only 12 lira a night'
'Excellent!'
Our new best friend proudly showed us round his school, which continued the Kurdish construction technique of making one step a foot high, the next 3 and the next half an inch.
'This is my classroom, the First Class!' he beamed proudly.
'Holy crap, it's got a projector in it!'
'Yes, only First Class has projector'
All in all the school was pretty damn impressive for a village of only a few thousand people in the middle of nowhere with roads leading up to it that you could have used to grate cheese.
Wez showed me, our Turkish Teacher Friend (TTF) and Stephan Australian football, by the magic of the web; it looked a helluva lot more interesting that regular football, but more like a riot than any sport I'd ever seen!
The next day we set off again, with the eventual goal of getting to Van Gülü.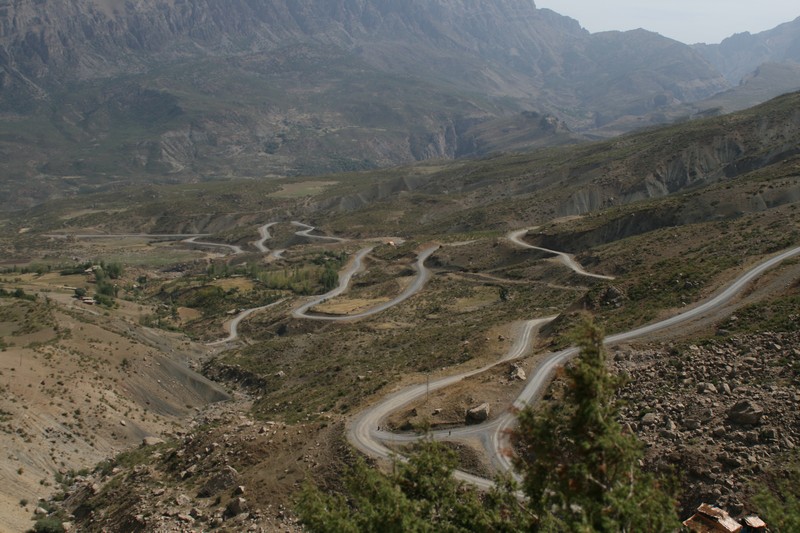 Who needs the alps?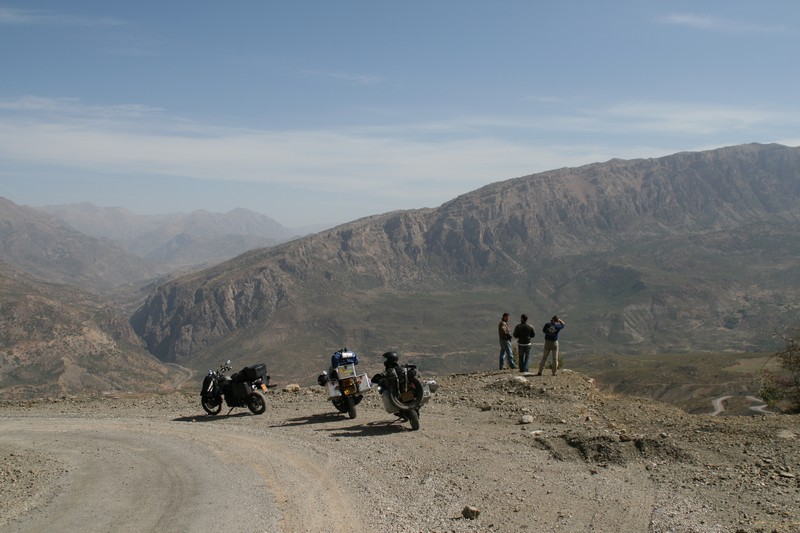 Admiring the view…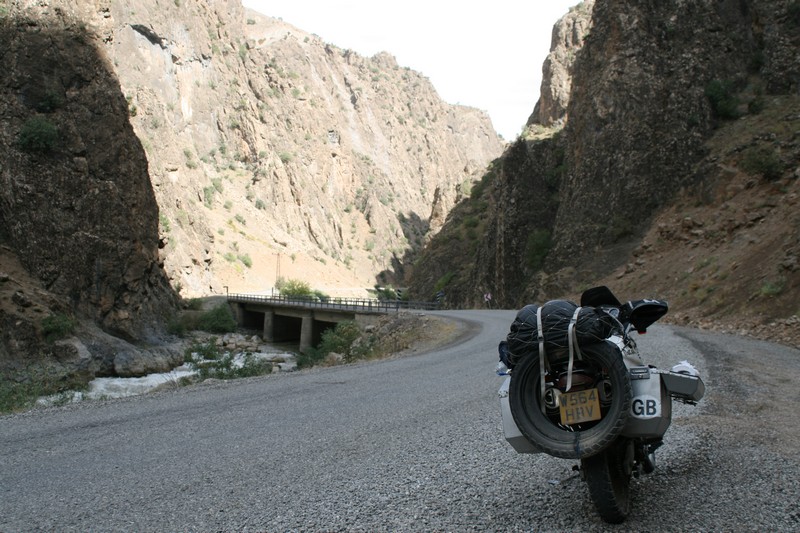 Down in the valley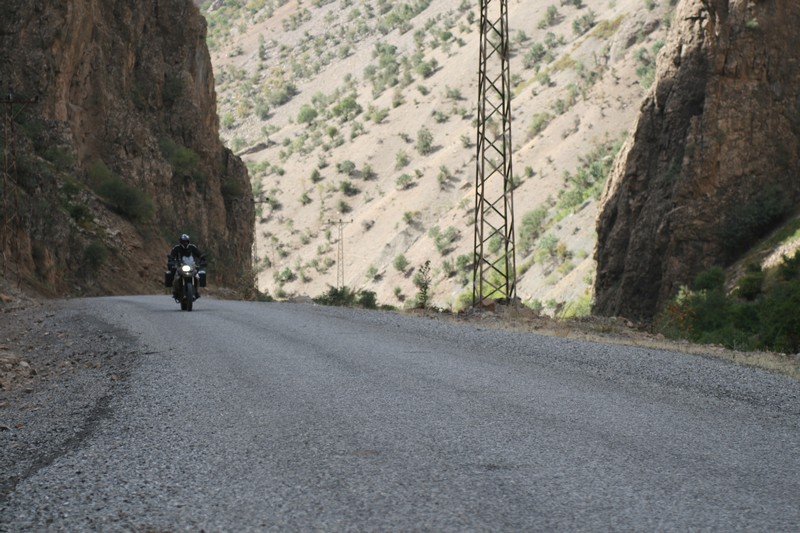 Surprisingly difficult to take photos of Stephan on his F800!
Riding along in the sunshine, admiring the scenery, trying not to succumb to death-by-target-fixation due to a lack of barriers between us and perilously high drops combined with unpredictable patches of loose gravel, it was easy to forget that we were a mere few hundred kilometres from the Iraqi border.
That was set to change however, when we hit our first checkpoint!
'Passports' This was set to become a common sound over the next few days.
We handed over our passports and were promptly given them back.
'Register' He said, pointing up the road?
'Where?' Chris queried.
'Jandarma'
Seeing we still weren't quite convinced one of the army men jumped on the back of Chris' bike and off Chris wobbled, ancient sub-machinegun knocking his knee as the bike bounced over the lumpy road.
Me, Wez and Stephan were left to chat to the remainder of the squad at the checkpoint.
'Chai?'
'Evet, Teshekur!'
Two rounds of tea and some Turkish desert (not to mention innumerable photos of me taken with the bike and various Turkish Privates (steady, watch the capitalisation) Chris returned with our passports.
We weren't yet on our way however as a car rolled up and we were hailed in English.
'Hello! Where have you come from?'
"Australia, England, Belgique'
'No no, I mean in Turkey'
'Aaah, Nemrut'
Aaah, Nemrut, one of the more popular tourist attractions in Turkey (outside Istanbul and the coast obviously) is a mountain, not the highest in Turkey by any stretch of the imagination, but the interesting part is the fact that it has a false summit created artificially hundreds of years ago to cover the burial chamber of the current king.
Adorning the site are a number of carvings of the heads of Persian gods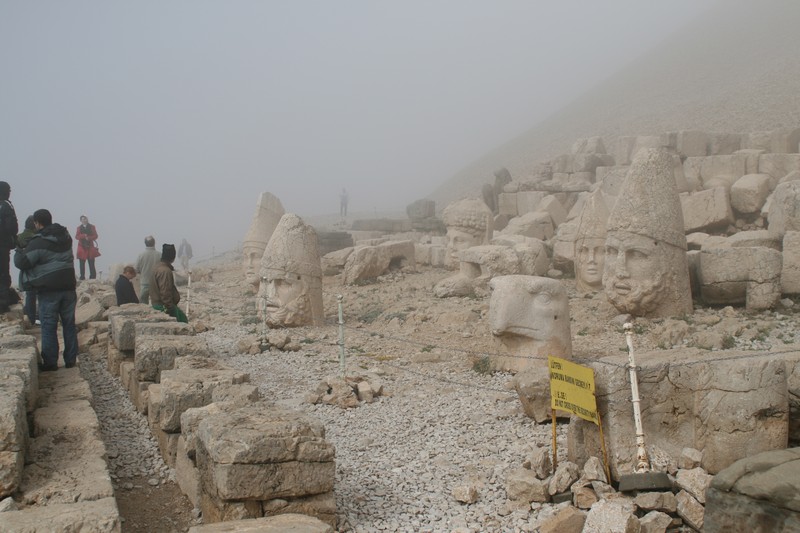 (on a related note I learned the Turkish word for sun is Ganesh), but although these were quite spectactular, once the cloud had cleared the sight that capture my attention was the view was the view from the top.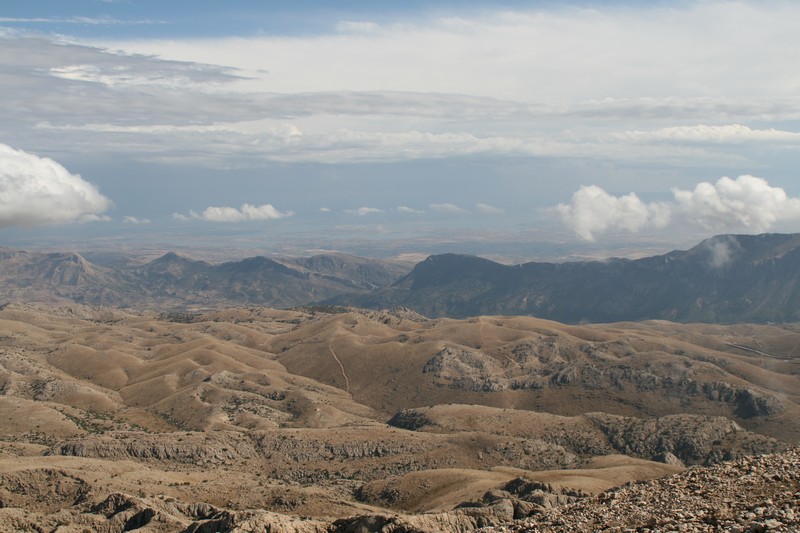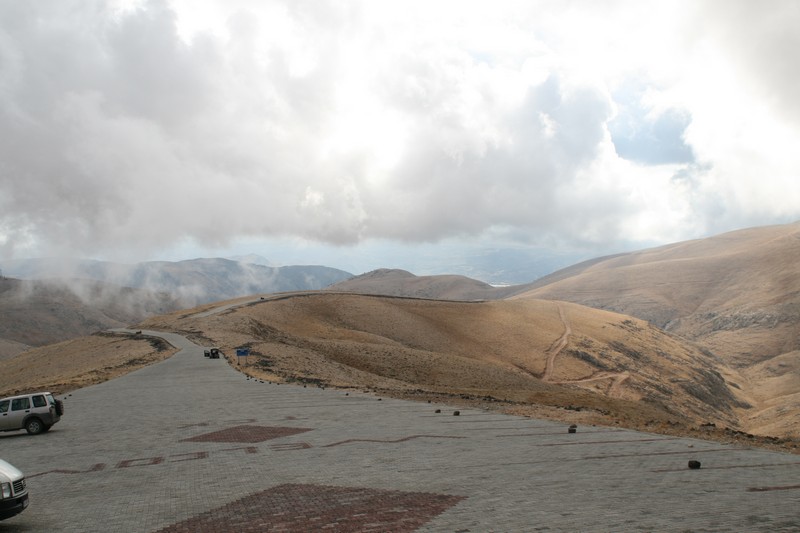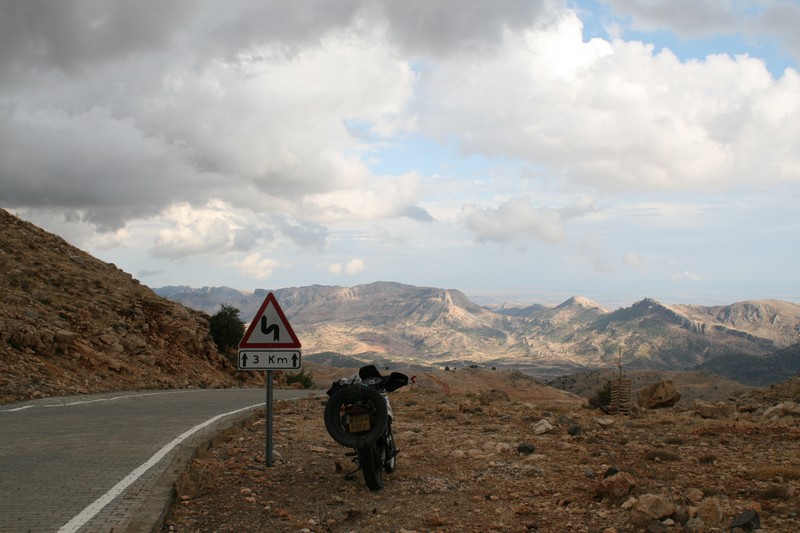 Althought Nemrut is not that high, the contrast between it and the surrounding land is incredible.
I still have the image burned into my mind from sitting on the steps of the ceremonial platform, chin resting on upturned palms, staring rapt at the view for nearly half an hour: In the foreground the undulating terrain surrounding the summit, descending sharply into a hidden valley to rise again 10km later in a sharp range of jagged mountains encircling the area, to the glittering lakes in the far distance, arable land dotted in between the winding network of roads that picked its way through the lakes and streams.
Not far away there was a fantastic Roman bridge that we road over (I'll have to get the video off Chris).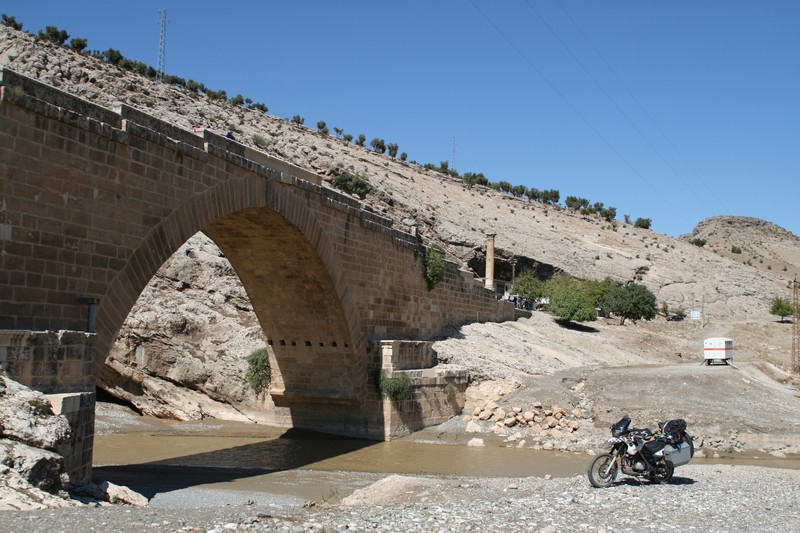 Anyway, you're probably all wondering who Wez and Chris are!
Out on a day trip with Stefan we had stopped fro some chai and saw a bike ride past with two guys, alu panniers and a GB sticker, I waved but they didn't see me.
We rode on, thought no more of it until in a village not far up the road we saw the bike parked by the side of the rode, owners nowhere in sight.
*scribble* 'Hi guys, fellow English overlanding, staying in Goreme, send me an email if you want to grab a beer'
The next day I was walking around Goreme hunting the wild durum (aka the cheap durum in tourist area) and lo and behold saw the bike and finally its seat-fodder.
Turns out Wez and Chris are actually two Australian guys doing the UK-Aus trip on a Honda CB500.
We were going in the same direction (namely Nemrut) and decided to ride there the next day.
I showed them the Pension I was staying in, seven lira a night, not to mention Jimi Hendrix stayed in the room (or so the plaque on the door proudly boasts) and as it was Ramadam, when they broke fast they served us all with beans, rice, meat and some whiteish nutty dessert I adore but can't find again!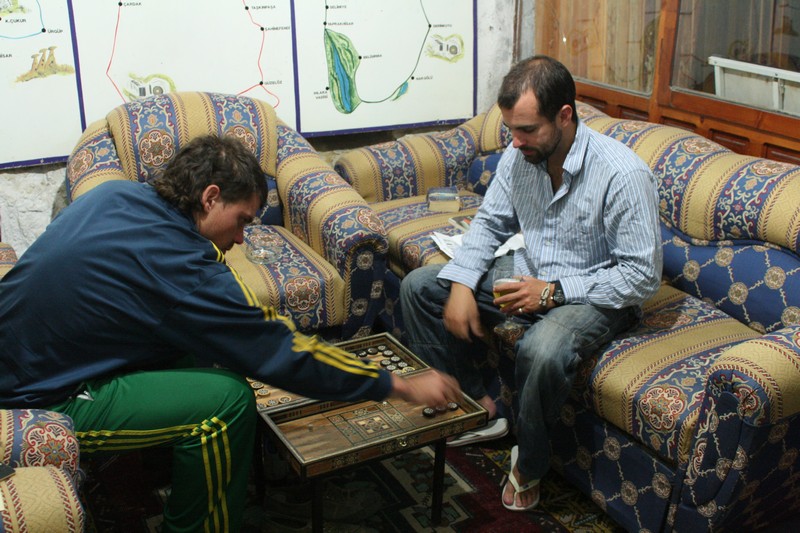 We've been riding together ever since and it's been great fun, I've only spent 8 pound ninety a day since I've been with them, including accomodation and food but excluding petrol.
Except today, today was a bit different.
For the past few days my batterys negative terminal has been in a bad way; when I fitted all my electrical add-ons (cigarette adaptor, heated gloves, horn, etc) I added a longer but smaller bolt, and in subsequent tightening and retightening the nut ate into the flesh of the negative terminal and eventually snapped the top of it off.
I was able to keep going by swapping it for a larger bolt I had in my spares bag but with the shaking the bike was receiving it was not a permanent solution and finally in Dogubayasit (Doggy Biscuit as it's fondly nicknamed)….
'Holy shit my bike's smoking!'
The bike stalls and I leap off and dive into my tool kit and remove the bodywork.
'Christ, the terminal's melted' I exclaimed, holding up a blob of metal like a rather unappetizing sweet.
'Good job there's a bike shop up the road' Wez pointed out.
Batteries they had, but of insufficient amperage, however the owner made urgent motions, telling me to follow him and bring the battery and for someone else to follow on a bike.
I got into the shop owners car, Chris following along behind wondering where our destination might be.
'Oto Elektrik' The sign proclaimed.
An hour later my battery was topped up with electrolyte, recharged and had a cable with a suitable connector soldered onto it to so I could hook it back up to the bike.
I hopped on the back of the CB500 and rode pillion back to where I'd broken down.
*rrrnnn rnnnn PHUT PHUT WHUMUMUMUMUMUMUM*
'Wooohooo!'
All for 10 Lira, job's a good'un!