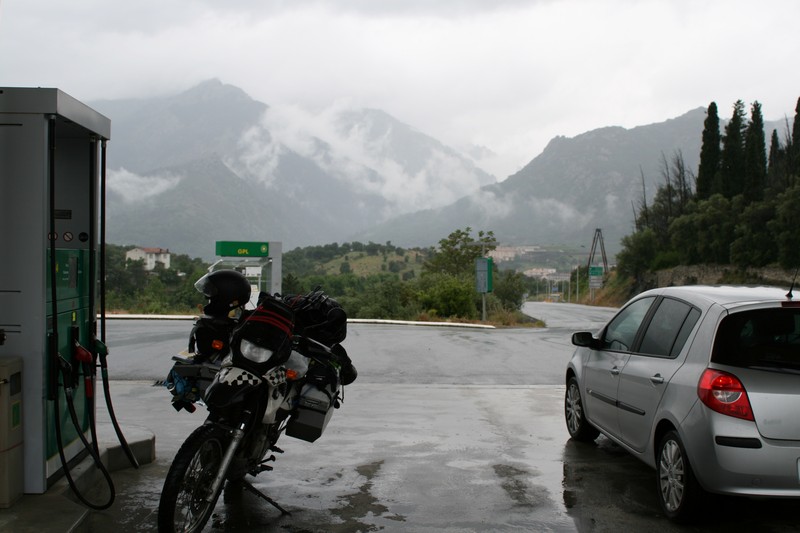 I hastily put down my, by now, sodden map of Corsica to wave at a group of eight German overlanders who were passing by just as I realised I'd spent the last 6 hours going in a circle trying to get to where I already was.
After realising where I was actually trying to get to, I quickly packed up and jumped on the bike in hot pursuit of the overlanders.
Despite the rain I caught them quickly on one of Corsicas few pieces of dual-carriageway and did the french foot-wave I'd seen so many bikers use as they passed me throughout France.
After parting ways (and nearly falling over on a slippery roundabout taken too fast.
I found myself in Propriano on the west coast of Corsica.
The weather throughout my two day stay in Corsica had been universally wet, so I decided finally it was time to pay for some accomodation in the form of a camp site.
€10, which I didn't end up paying as the reception didn't open early enough for me to check out and catch my ferry in the morning, bye bye copy no.1 of my driving licence.
Depressingly enough in Sardegna the weather was much the same and after milling around in the miserable town of Porto Torres (which however boasted "il menu turistica" at a restaurant comprising of a 3 course meal of veal and three glasses of wine for €11 in its favour) I forked over for my second campsite.
May I stress that even after (less than really) a week sleeping rough, it feels so good to be able to sleep without fear of being mugged/moved on by the police and to have a hot shower in the morning.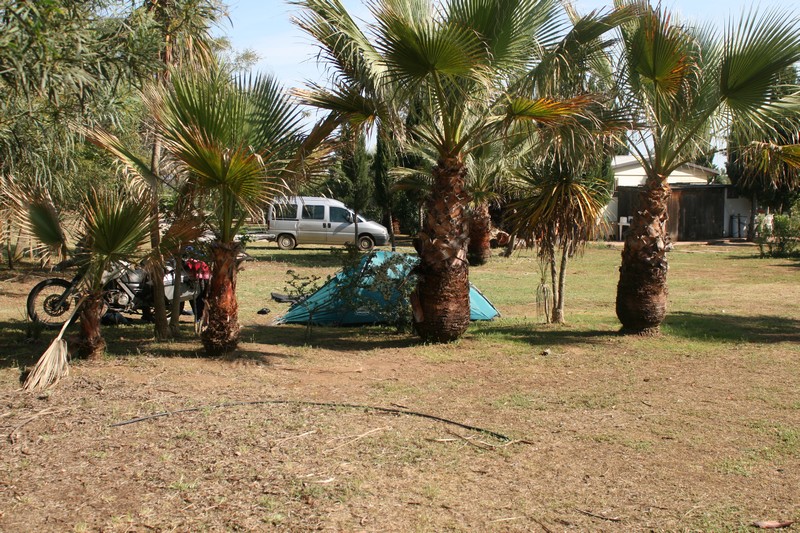 My reason for being in Sardinia was ultimately to go and see the rally, but in my personal tradition of organising very little and adopting an "I'll sort it out when I get there" attitude I had no idea where the hell it was other than some vague notion it was in the north east.
A quick trip to an internet cafe in Sassari revealed that the opening ceremony was in Porto Cervo, so I set off across the island, and as the weather improved started to feel a bit more optimistic about the whole affair.
And got to appreciate some excellent scenery to boot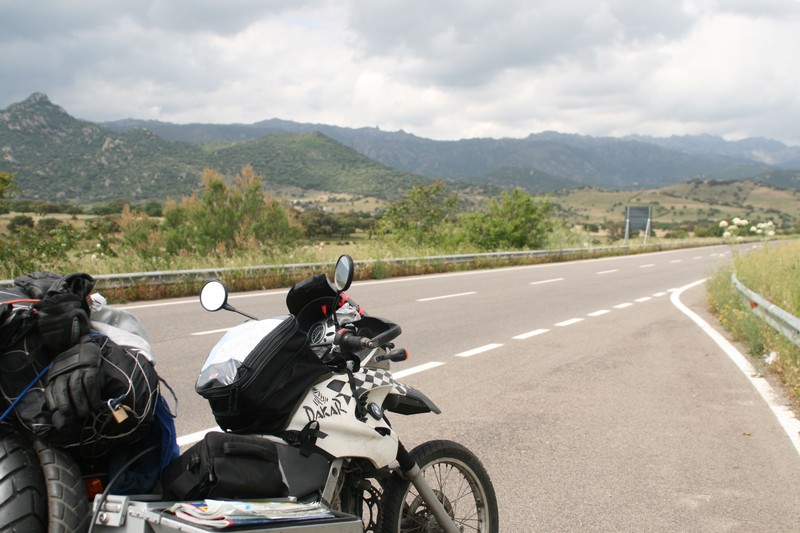 Once I got to Porto Cervo however I found nothing other than a mini-St-Tropez and hide nor hair of anything rally related.
Being as it was getting late, the best thing I decided was to simply find somewhere to camp and to try and find out more in the morning.
The time-honoured process of driving randomly and hoping for a sign worked out well and I came to a rather nice sounding campsite "Acapluco", at an astounding ,€8 a night and with a very plush bar on-site to boot!
I pitch my tent next to a group of German motorbikes that looks suspiciously familiar…
It would appear that through some incredible fluke, through the entirity of Corsica and the entirity of Sardinia, the group of German overlanders I encountered in Corsica are camped in the very same campsite!
They prove very friendly and I believe this is their website, though I don't have my notebook to hand so I may be wrong.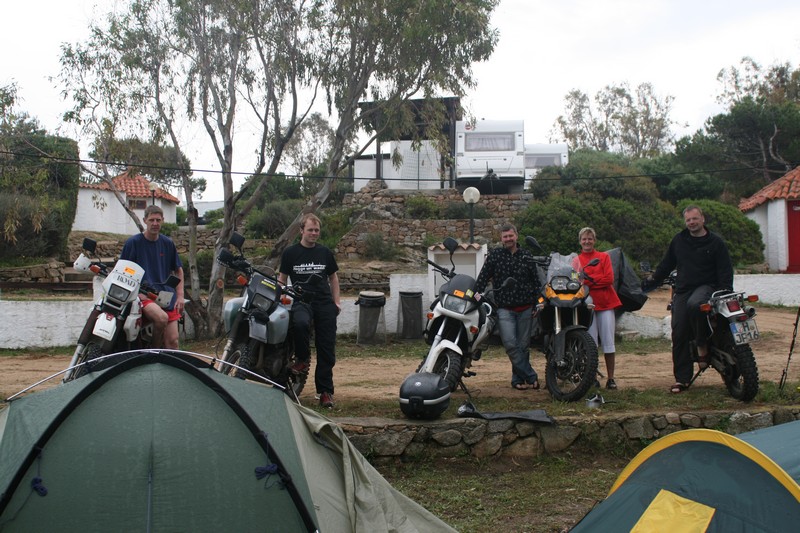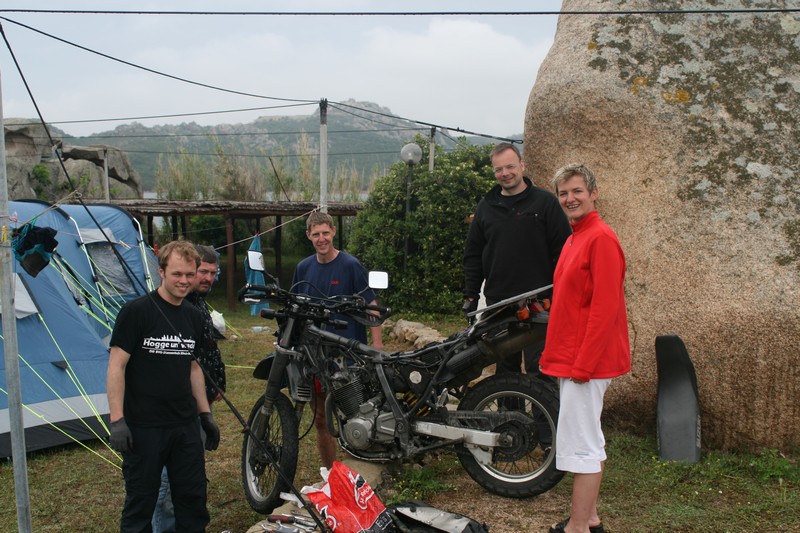 My incredible luck in meeting people extends to a rally journalist (who has expressed an interest in writing an article on my travels) with previous experience as a motorcycle test-pilot (as it were) and not only tested the F650 but also the very R1200s that Ewan Mcgregory and Charley Boorman did their RTW travels on, apparently revealing major issues with the first two bikes initially assigned to them!
The next day I rebuilt my forks (replacing previously mentioned leaky fork seals).
However the drain-bolts on both forks are stripped (my fault!) and my attempts to seal them with instant-gasket have so far proved unsuccessful (but I feel I may just being using it wrong!)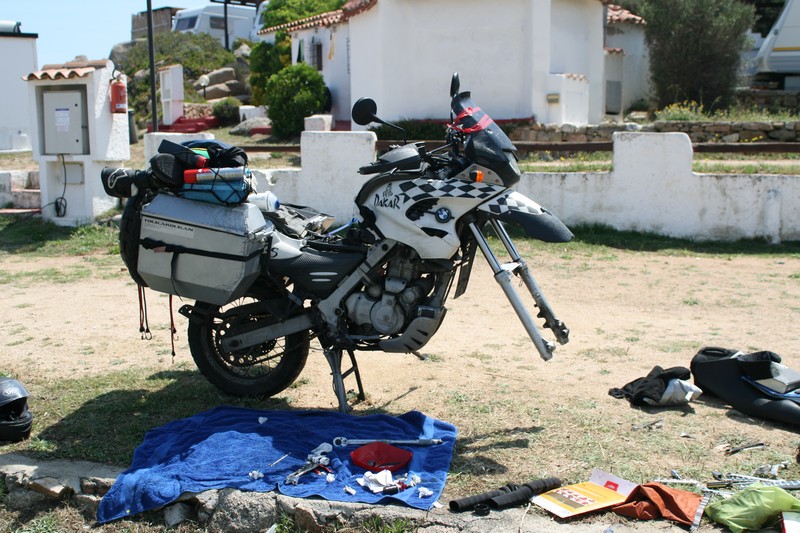 As that didn't take all day and I needed to recover after successfully sunburning myself quite badly during the fork rebuild I proceeded to laze the entire day away on the beach and in the bar drinking the local beer.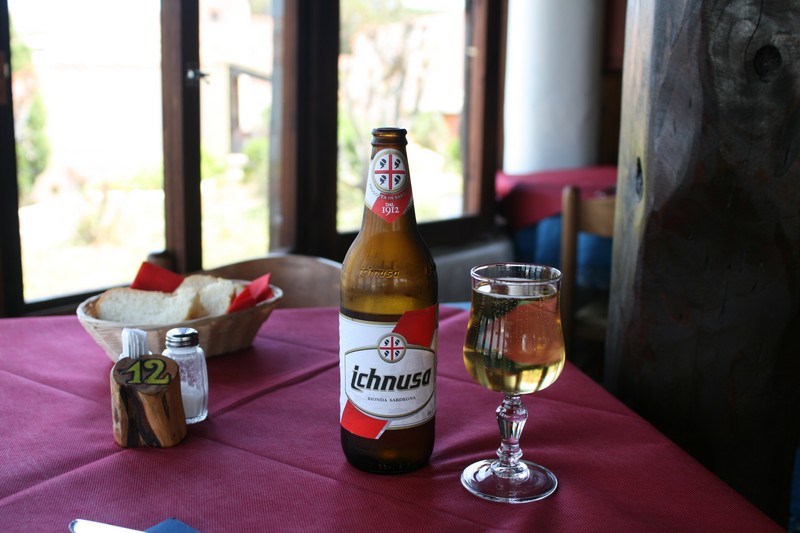 Which is far too nice.
Today?
Today I went to see the RALLY!